April 2012, Workshop at Le Quai, Mulhouse

Thinking in Pictures
Book design for Robin Waart's project Thinking in Pictures. A collection of film moments from 1930 onwards, of moments when someone...
230 x 285 mm
500 pages / 50 copies
Amsterdam 2011
Two Disciplines, One Cup
Catalogue for the Art and Research program initiated by the University of Amsterdam. The publication is proposed to the participants as a...
210 x 297 mm
100 pages / 450 copies
Amsterdam 2011


A Good Story
Two conversations led with Geert van Kesteren and Nicole Robbers inquiring the recent developments within the photojournalism field...
315 x 235 mm
16 pages / 100 copies
Amsterdam 2011


The Show
The Show is a structure built for the campaign of the Rietveld Graduation Show 2011. By asking graduating students...
posters / flyers / videos
Amsterdam 2011


Disembedded
Exhibition and catalogue presenting the work of photojournalists who base their work in critical investigation...
[in progress]
Paris 2012


Let Other Do The Same
Book relating evolutions of the material published on Internet as a source of information. The trial opposing photographer...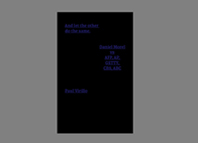 108 x 174 mm
200 pages
Paris 2012


The Lettergieterij
Poster annoucing the Open Days of the former Amsterdam's typefoundry.
The building has been transformed...

594 × 841 mm
20 copies
Amsterdam 2011


Le Banc
These furnitures have been designed as a tool reflecting the collaborative practice.
The chairs designed in this process are...

[in progress]
Paris 2012